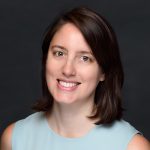 Academic Rank:
Clinical Associate Professor
Clinical Chemist, Providence Health Care
Affiliation(s):
St. Paul's Hospital / HLI
Short Bio:
Dr. DeMarco received a BSc in Honours Biochemistry and a minor in Mathematics from Mercyhurst University. She earned a PhD from the University of Washington in Medicinal Chemistry, as part of the Biomolecular Structure and Design Program. She subsequently completed a Clinical Chemistry fellowship at Washington University School of Medicine in St Louis.
Dr. DeMarco's research group is interested in technology development and implement of novel diagnostic tests for use in patient care, with an emphasis on clinical mass spectrometric analysis of peptide and protein biomarkers. While the group works in various areas of medicine, a major focus is on neurodegenerative diseases. The group aims to create better tools for timely diagnosis of Alzheimer's disease, frontotemporal degeneration, and related disorders, and make these tools easily accessible to those that need them. New tests are needed to improve our understanding of disease pathology and progression, support clinical trials for new therapeutics, and help provide timely and accurate diagnoses. This research is accomplished in close collaboration with clinicians and scientists at UBC's Clinic for Alzheimer's Disease and Related Disorders.

Clinical Chemist, St Paul's Hospital
Clinical Associate Professor, University of British Columbia
Michael Smith Foundation for Health Research Scholar
Academic background
Clinical Chemistry Fellowship, Washington University School of Medicine. 2013
Postdoctoral Fellowship (Complex Carbohydrate Research Center), University of Georgia. 2010
PhD (Medicinal Chemistry, Biomolecular Structure and Design Program), University of Washington. 2006
BSc (Honors Biochemistry), Mercyhurst College. 2001
Awards and Recognition
Early Career Excellence in Research and Discovery, Department of Pathology and Laboratory Medicine, UBC, 2017
Outstanding Scientific Achievements by a Young Investigator, American Association for Clinical Chemistry 2016
Michael Smith Foundation for Health Research Scholar 2016
Publications
Research Interest
Engaged in Clinical Research?: Yes
Research Interests: Protein misfolding diseases and development of novel clinical diagnostics
Research Specialization Keywords: clinical assay development, clinical chemistry, immunoassays, mass
spectrometry, protein misfolding & amyloid formation, translational medicine
Research Centres: Providence Health Care Research Institute, The James Hogg iCAPTURE Centre for
Cardiovascular and Pulmonary Research
Technological Applications: Clinical biological analyses
Disciplines Trained In: Biochemistry, Chemistry, Pathology, Statistics
Research Disciplines: Biochemistry, Chemistry, Pathology
Areas of Research: Biomedical Technologies, Neurodegenerative Diseases, Pathology, Proteins, Proteomics
Fields of Application: Biomedical Aspects of Human Health, Pathogenesis and Treatment of Diseases
Teaching Interest
Laboratory based teaching