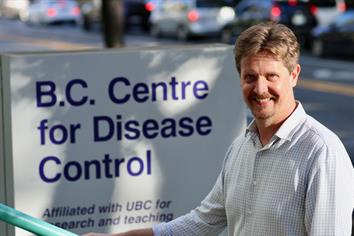 Clinical Assistant Professor, Department of Pathology & Laboratory Medicine
Senior Scientist Microbial Genomics, BCCDC Public Health Laboratory
BC Centre for Disease Control
Dr. John R Tyson is a senior scientist for Wet Lab Genomics at the BCCDC Public Health Laboratory
Dr. Tyson holds a BSc and PhD in molecular cell biology from the University of Manchester. He was a research fellow at the University of Bristol and Simon Fraser University, and he has been a research associate at the University of British Columbia since 2005.
Academic Background
PhD – Wellcome Trust Prize Studentship. University of Manchester. 1999
First class honours BSc degree in Molecular Biology with Industrial Experience, University of Manchester. 1995
Research Interest
Dr. John R Tyson has a background in molecular cell biology and genomics, with a particular focus on next generation sequencing technologies and molecular diagnostics. He has recently joined the BCCDC as a senior scientist focusing on microbial genomics.
In collaboration with local and international colleges, he has helped developed cost-effective, and widely-adopted, SARS-CoV-2 sequencing methods (ARTIC network amplicon sequencing). His work has continued within BCCDC on tracking and characterizing the genetic drift observed in the SARS-CoV-2 genome lineages here in BC and the emergence of variants of concern (VoC).
Current Projects In My Lab Include