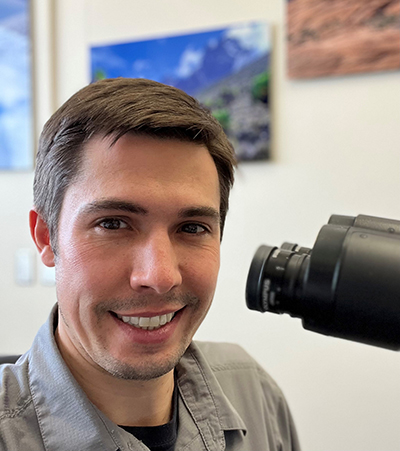 Pac, Lincoln
MD, FRCPC, FCAP
Clinical Instructor, Dept of Pathology & Laboratory Medicine, UBC
General Pathologist, East Kootenay Regional Hospital, Cranbrook, BC
Laboratory Medical Director, Elk Valley Hospital, Fernie, BC
Laboratory Medical Director, Creston Valley Hospital, Creston, BC
East Kootenay Regional Hospital, Cranbrook, BC
Dr. Pac completed medical school at the University of Colorado following by anatomic and clinical pathology residency at the University of Washington and hematopathology and molecular genetic pathology fellowships at the University of Utah/ARUP Laboratories. He has conducted infectious disease research in Uganda and worked on projects to improve clinical laboratory capacity in Kenya. Dr. Pac works as a general pathologist at the East Kootenay Regional Hospital, where he welcomes medical students and pathology residents to experience training in a vibrant rural practice.
Academic Background
Fellow, Royal College of Physicians and Surgeons of Canada, General Pathology, 2021
Diplomate, American Board of Pathology, Molecular Genetic Pathology, 2020
Diplomate, American Board of Pathology, Hematopathology, 2019
Diplomate, American Board of Pathology, Anatomic and Clinical Pathology, 2018
MD, University of Colorado, 2014
AB, summa cum laude, Bowdoin College, 2008
Awards and Recognition
Fellowship at Auschwitz for the Study of Professional Ethics (FASPE), Medical, 2013
Fulbright-Fogarty Fellowship in Public Health, U.S Department of State, 2012-2013
Alpha Omega Alpha
Phi Beta Kappa
Pac LJ, Cheeney G, Westerhoff M, Konnick EQ, Greene DN, Lockwood CM. Real-Time PCR to Detect α-1 Antitrypsin S and Z Alleles in Formalin-Fixed Paraffin-Embedded Tissue. J Appl Lab Med. 2018 Jul 1;3(1):18-25. doi: 10.1373/jalm.2017.025858. PMID: 33626829.
Pac L, Horwitz MM, Namutebi AM, Auerbach BJ, Semeere A, Namulema T, Schwarz M, Bbosa R, Muruta A, Meya DB, Manabe YC. Implementation and operational research: Integrated pre-antiretroviral therapy screening and treatment for tuberculosis and cryptococcal antigenemia. J Acquir Immune Defic Syndr. 2015 Apr 15;68(5):e69-76. doi: 10.1097/QAI.0000000000000527. PMID: 25761234; PMCID: PMC4357272.
Pac LJ, Rossi HA, Theyagarajan KV, Monoski TJ, Louzon MJ, Riveira MC, Hess JR. Blood sample from an intraosseous device. Transfusion. 2018 Nov;58(11):2472-2473. doi: 10.1111/trf.14762. Epub 2018 Oct 4. PMID: 30284285.
Cheeney G, Pac LJ, Gopal P, Landis CS, Konnick EQ, Swanson PE, Greene DN, Lockwood CM, Westerhoff M. Increased Frequency of Heterozygous Alpha-1-Antitrypsin Deficiency in Liver Explants From Nonalcoholic Steatohepatitis Patients. Liver Transpl. 2020 Jan;26(1):17-24. doi: 10.1002/lt.25652. Epub 2019 Nov 25. PMID: 31597010.
Research Interest
Pathology and laboratory medicine service and patient care
Quality improvement and quality assurance
Current Projects In My Lab Include
Teaching Interest
Rural community practice rotation available to:
Medical students
Residents

General Pathology
Anatomic Pathology
Hematopathology