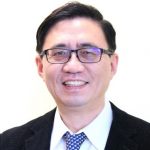 Dr.
Gao, Zu-hua
MD, PhD, FRCPC
Academic Ranks(s):
Professor and Department Head, Pathology and Laboratory Medicine
Affiliations(s):
BC Cancer Agency
Short Bio
Grow up in a small village of mainland China, Dr. Zu-hua Gao obtained his Medical degree from Qingdao Medical College, Master degree from Harbin Medical University, and PhD degree from Peking Union Medical College. Dr. Gao received his post-doctoral fellowship training at the Johns Hopkins Hospital, pathology residency training at Dalhousie University, and subspecialty pathology fellowship at the University of Chicago. Dr. Gao had been the Division Head of Anatomical Pathology and Cytopathology at the University of Calgary and Calgary Laboratory Services between 2007-2011. Between September 2012 and November 2021, Dr. Gao has been the Chair and Chief of the Department of Pathology at McGill University. Since 2019, Dr. Gao has been the President of Canadian Chairs of Pathology and Laboratory Medicine. In 2017, Dr. Gao became a Fellow of the Royal Society of Medicine (London UK). In 2019, Dr. Gao became a Fellow of the Canadian Academy of Health Sciences. Dr. Gao is currently the Professor and Head of the Department of Pathology and Laboratory Medicine at the University of British Columbia.
Academic
Academic Background
Post-Doctoral Fellow. University of Western Ontario, Canada. 1998
Post-Doctoral Fellow. The Johns Hopkins Hospital. 1996
PhD. Peking Union Medical College. 1992
MSc. Harbin University, Harbin China. 1989
MD. Qingdao Medical College, Qingdao, China. 1983
Click on http://www.ncbi.nlm.nih.gov/pubmed/?term=gao%2C+zu+hua to see my current publications list
Selected Publications
Lisio MA, Fu L, Goyeneche A, Gao ZH, Telleria C. High-Grade Serous Ovarian Cancer: Basic Sciences, Clinical and Therapeutic Standpoints. Int J Mol Sci. 2019 Feb 22;20(4):952. doi: 10.3390/ijms20040952. PMID: 30813239; PMCID: PMC6412907.
van Dam PJ, van der Stok EP, Teuwen LA, Van den Eynden GG, Illemann M, Frentzas S, Majeed AW, Eefsen RL, Coebergh van den Braak RRJ, Lazaris A, Fernandez MC, Galjart B, Laerum OD, Rayes R, Grünhagen DJ, Van de Paer M, Sucaet Y, Mudhar HS, Schvimer M, Nyström H, Kockx M, Bird NC, Vidal-Vanaclocha F, Metrakos P, Simoneau E, Verhoef C, Dirix LY, Van Laere S, Gao ZH, Brodt P, Reynolds AR, Vermeulen PB. International consensus guidelines for scoring the histopathological growth patterns of liver metastasis. Br J Cancer. 2017 Nov 7;117(10):1427-1441. doi: 10.1038/bjc.2017.334. Epub 2017 Oct 5. PMID: 28982110; PMCID: PMC5680474.
Frentzas S, Simoneau E, Bridgeman VL, Vermeulen PB, Foo S, Kostaras E, Nathan M, Wotherspoon A, Gao ZH, Shi Y, Van den Eynden G, Daley F, Peckitt C, Tan X, Salman A, Lazaris A, Gazinska P, Berg TJ, Eltahir Z, Ritsma L, Van Rheenen J, Khashper A, Brown G, Nystrom H, Sund M, Van Laere S, Loyer E, Dirix L, Cunningham D, Metrakos P, Reynolds AR. Vessel co-option mediates resistance to anti-angiogenic therapy in liver metastases. Nat Med. 2016 Nov;22(11):1294-1302. doi: 10.1038/nm.4197. Epub 2016 Oct 17. PMID: 27748747; PMCID: PMC5104270.
Li Y, Yau A, Schaeffer D, Magliocco A, Gui X, Urbanski S, Waghray R, Owen D, Gao ZH. Colorectal glandular-neuroendocrine mixed tumor: pathologic spectrum and clinical implications. Am J Surg Pathol. 2011 Mar;35(3):413-25. doi: 10.1097/PAS.0b013e3182093657. PMID: 21317713.
Zhao CR, Gao ZH, Qu XJ. Nrf2-ARE signaling pathway and natural products for cancer chemoprevention. Cancer Epidemiol. 2010 Oct;34(5):523-33. doi: 10.1016/j.canep.2010.06.012. Epub 2010 Jul 17. PMID: 20638930.
Gao ZH, Tretiakova MS, Liu WH, Gong C, Farris PD, Hart J. Association of E-cadherin, matrix metalloproteinases, and tissue inhibitors of metalloproteinases with the progression and metastasis of hepatocellular carcinoma. Mod Pathol. 2006 Apr;19(4):533-40. doi: 10.1038/modpathol.3800554. PMID: 16474379.
Gao Z, McAlister VC, Williams GM. Repopulation of liver endothelium by bone-marrow-derived cells. Lancet. 2001 Mar 24;357(9260):932-3. doi: 10.1016/s0140-6736(00)04217-3. PMID: 11289353.
McAlister VC, Gao Z, Peltekian K, Domingues J, Mahalati K, MacDonald AS. Sirolimus-tacrolimus combination immunosuppression. Lancet. 2000 Jan 29;355(9201):376-7. doi: 10.1016/S0140-6736(99)03882-9. PMID: 10665560.
Research
Research Interest
Dr. Gao's research focuses on the molecular mechanism of colon cancer metastasis and the prognostic and predictive biomarkers for pancreatic ductal adenocarcinoma. As a research scientist, Dr. Gao published 175 peer-reviewed articles, over 75 abstracts and meeting presentations, and 25 invited speeches at national and international venues. Dr. Gao received many awards including the Junior Scientist Award at CAP-ACP, the Dalhousie Medical Foundation award, the McGill University Health Center Foundation award, etc.
Clinical Service
As a surgical pathologist, Dr. Gao's clinical expertise is gastrointestinal and liver pathology.
Current Projects In My Lab Include
Teaching
Teaching Interest
As an educator, Dr. Gao teaches undergraduate medical students pathology courses, supervises graduate students, residents, and fellows. Dr. Gao has written three textbooks: the Clinical Skills Review for medical students (3editions), the Pathology Review and Practice Guide book for pathology residents (3 editions, translated into 4 languages), and Gross Morphology of Common Diseases. Dr. Gao is extensively involved in the