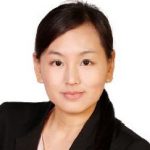 Dr.
Zheng, Yuzi Emma
PhD, DABCC
Academic Ranks(s):
Adjunct Professor, UBC
Affiliations(s):
Surrey Memorial Hospital / Abbotsford Regional Hospital and Cancer Centre
Short Bio
Dr. Zheng received a BSc in Biochemistry from Concordia University, Montreal. She earned a PhD from the University of British Columbia in Proteomics and Mass spectrometry. During her PhD, she was a visiting student at Diamantina Institute in Australia and the first graduate intern at Centre for Drug Research and Development. Dr. Zheng completed a postdoctoral research fellowship in the clinical chemistry laboratory at St. Paul's Hospital followed by a clinical fellowship at Cleveland Clinic, Ohio.
Dr. Zheng joined the Department of Pathology and Laboratory Medicine of Fraser Health in 2020.  Her current research interests are developing mass spectrometry-based clinical test, omics-based biomarker discovery and point of care technology development.
Academic
Academic Background
Clinical Chemistry Fellowship, Cleveland Clinic. 2019
Postdoctoral Fellowship, St Paul's Hospital/ University of British Columbia. 2017
PhD (Proteomics, Mass Spectrometry), University of British Columbia. 2012
BSc (Biochemistry), Concordia University. 2006
Awards and Recognition
Spark Award, Alzheimer Society of Canada and the Firefly Foundation. 2015
Chinese Government Award for Outstanding PhD Student Abroad, China Scholarship Council. 2012
Research
Research Interest
Clinical assay development
Mass spectrometry
Protein biomarkers
Translational medicine
Point of care testing
Current Projects In My Lab Include
Teaching
Teaching Interest
• Clinical laboratory based teaching