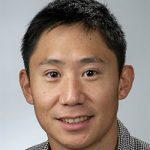 Dr.
Leung, Victor
MD, FRCPC
Academic Ranks(s):
Clinical Associate Professor, UBC, Medical Director, Infection Prevention and Control, Medical Lead, Antimicrobial Stewardship Program
Short Bio
Victor Leung is the Medical Director for Infection Prevention and Control at Providence Health Care. He is also the Medical Lead for
the PHC Antimicrobial Stewardship Program. He has been practicing clinical infectious diseases and medical microbiology at St. Paul's
Hospital since completing his fellowships in Infectious Diseases and Medical Microbiology at McGill University.
Academic
Academic Background
FRCPC Medical Microbiology. 2011
McGill University, Fellowship, Infectious Diseases and Medical Microbiology. 2011
FRCPC Infectious Diseases. 2010
FRCPC Internal Medicine. 2009
University of British Columbia, Residency, Internal Medicine. 2008
University of British Columbia, MD. 2005
University of British Columbia, B.Sc (Hons). 2001
McGill University, Fellowship, Infectious Diseases and Medical Microbiology. 2011
Research
Research Interest
Antimicrobial Stewardship
Nosocomial infections
Implementation science
Current Projects In My Lab Include
Teaching
Teaching Interest
Infection Prevention and Control practice
Diagnostic test utilization
Rational antimicrobial prescribing