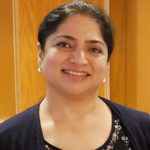 Academic Ranks(s):
Clinical Assistant Professor, UBC, Medical Microbiologist, Surrey Memorial Hospital
Affiliations(s):
Surrey Memorial Hospital
Short Bio
I earned my medical degree from Pakistan and completed my postgraduate training in medical microbiology in 2007 before immigrating to Canada. I spent a few years in Toronto before moving to Vancouver to further pursue my career in microbiology. I graduated from the UBC medical microbiology residency program in 2017 and am currently working as a medical microbiologist with Fraser Health at Surrey Memorial Hospital. My areas of interest include rapid diagnostic methods with a focus on emerging molecular techniques, antimicrobial resistance and tropical medicine. I enjoy teaching and sharing knowledge with trainees and colleagues.
Academic
Academic Background
Medical License- College of Physicians and Surgeons of British Columbia. 2017
FRCPC Medical Microbiology, Royal College of Physicians and Surgeons Canada. 2017
LMCC-Licentiate of the Medical Council of Canada, 2013
United States Medical Licensing Examination (USMLE step 1/2 -94/97/pass). 2009
FCPS- College of Physicians and Surgeons of Pakistan. 2007
Medical License- Pakistan Medical and Dental Council. 1993
MBBS Medicine. Rawalpindi Medical college, University of The Punjab, Pakistan. 1993
Research
Current Projects In My Lab Include