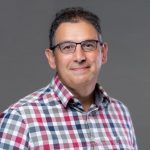 Aparicio, Samuel
BM BCh PhD FRCPath FRSC
Professor, UBC, Distinguished Scientist, Department Head, Molecular Oncology, BCCA
Short Bio
Dr. Samuel Aparicio (BM, BCh, PhD, FRCPath, FRSC) is the Nan & Lorraine Robertson Chair in Breast Cancer Research, holds the Canada Research Chair (Tier 1) in Molecular Oncology, and is the recipient of the 2014 Aubrey J Tingle Prize. He is also Head of the Department of Breast and Molecular Oncology at BC Cancer Research, part of the Provincial Health Services Authority, and a Professor in the Department of Pathology and Laboratory Medicine at UBC.
Dr. Aparicio graduated in medical and natural sciences from Cambridge University (UK), clinical medicine from Oxford, and subsequently in internal medicine and pathology. After doctoral work with Sydney Brenner in Cambridge, he held a Wellcome Trust Career Development Fellowship at the Wellcome/CRUK Developmental Biology Institute. From 2000-2005 he was a senior investigator in the Department of Oncology, Cambridge. He was a co-leader of the international consortium that sequenced the genome of the pufferfish Fugu rubripes in 2002. He moved to Vancouver in 2005.
Affiliations
Faculty member, UBC Genome Science and Technology Graduate Program
Associate member, Head Single Cell Genomics, BC Cancer Genome Sciences Centre
Associate member, UBC CIHR/MSFHR Bioinformatics Program
Associate member, Michael Smith Genome Sciences Centre
Credentials
Professor, University of British Columbia – Department of Pathology and Laboratory Medicine
Canada Research Chair in Molecular Oncology
Department Head , BC Cancer, Department of Molecular Oncology
Nan & Lorraine Robertson Chair of Breast Cancer Research, UBC/BC Cancer
Affiliate Member, New York Genome Center
Associate Member, BC Cancer, Genome Sciences Center
Affiliated Investigator, Vancouver Coastal Health Authority
Distinguished Scientist, BC Cancer, Department of Molecular Oncology
PhD, University of Cambridge
Links
Academic
Academic Background
Royal College of Pathologists, MRC Pathology. May 2004
PhD, University of Cambridge, UK. 1995
MA, University of Cambridge, UK (Comparative gene regulation). 1988
BM BCh, University of Oxford, UK (Clinical Medicine). 1988
BA, University of Cambridge, UK (Natural and Medical Sciences). 1985/12
Research
Research Interest
Dr. Aparicio's research program encompasses the fields of cancer genomics, mouse genetic models, high throughput screens, small molecule chemical probes and translational breast cancer research. His most recent work on the molecular taxonomy of breast cancer led to identification of new genes that could change the way breast cancer is diagnosed, and form the basis of next-generation treatments. This discovery was preceded by another breakthrough in decoding the genetic makeup of the most-deadly form of breast cancer, known as triple negative subtype. Dr. Aparicio is also working to develop quantitative measures of clonal fitness in patients, including methods for single cell genome sequencing and PDX models of human cancer. He collaborates widely with other groups, with current projects including the genomic and biochemical analysis of lymphoma, ovarian cancer, and several rare pediatric cancers. He was a co-founder of Paradigm Therapeutics (now, Takeda Cambridge) and currently Contextual Genomics Ltd. He was elected to the Royal Society of Canada in 2016 and is honoured as a University of British Columbia Distinguished University Scholar (2017). His contributions to academic research have been widely published in scientific and clinical journals such as Nature, Science, Cell and the New England Journal of Medicine. He is the recipient of numerous awards from academic as well as industrial institutions.
Breast cancer genome sequencing
Discovery of novel gene mutations
Breast cancer xenografts
Pre-clinical models of breast tumour biology and drug response
Cancer epigenetics
Investigation of non-sequence changes to tumour cell DNA
Characterisation of normal and cancerous mammary stem cells Discovery of genes involved in stem cell proliferation and differentiation
Genetic heterogeneity within breast tumours and single cell genomics Identification and characterisation of tumour cell subpopulations
Induced pluripotent stem (iPS) cells Development of novel methods to help move iPS cells into the clinic
Mammographic density and columnar cell lesions of the breast Investigation of the connection between common breast cell abnormalities and the higher risk of tumour development in dense breast tissue
METABRIC
Molecular classification of breast cancer subtypes
Screening the human genome for genes involved in breast cancer Discovery of novel gene-gene and gene-drug interactions
Current Projects In My Lab Include
Mutation or loss of DNA damage repair genes, such as BRCA1/2 can lead to genomic instability, the onset of cancer, and can facilitate the development of resistance to DNA-damaging chemotherapy. Our lab is investigating novel drug interventions which may improve the outcome for patients with DNA repair defects
Cancer is a dynamic disease, and as a result a single tumour mass may comprise a diverse collection cancer clones with distinct phenotypes, mutations or sensitivity to treatment. Integrating deep and single cell genomic and transcriptomic sequencing with statistical modeling of clonal fitness, our lab is developing methods to study and predict the clonal dynamics of cancer in PDX and cell models, under natural and selective pressures such as drug intervention or CRISPR knockout.
Single cell sequencing technologies allow the study of phenomena such as tumour heterogeneity, clonal dynamics, tissue microenvironments as well as the identification of novel and intermediary cell types, which may not be easily resolved with bulk sequencing strategies. Our lab has developed methods for the surveying of single cell genomics, and integrates them with methods to study the epigenome and transcriptome at single cell resolution, as well as with imaging techniques for spatial context