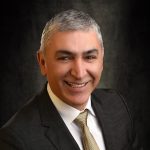 Alaghehbandan, Reza
MD, MSc(Epi), FRCPC, FCAP, FACE, FIAC
Clinical Professor of Pathology, University of British Columbia (UBC), Department Head, Pathology and Laboratory Medicine, Royal Columbian Hospital (RCH)
Short Bio
Dr. Alaghehbandan is a physician leader and a philanthropist with expertise in urologic surgical pathology and clinical epidemiology, with more than 20 years of clinical and public service experience. He is board-certified in Anatomic Pathology in Canada, the USA and Europe, and a Fellow of the International Academy of Cytology (FIAC), the American College of Epidemiology (FACE), and the New York Academy of Medicine (NYAM).
His primary research focus is on diagnostic and prognostic challenges in urologic pathology, with emphasis on recognizing novel renal tumor histologic features that correlate with underlying molecular signatures and significance for patient management and outcomes. He is a frequent speaker at national and international conferences and has authored and/or co-authored numerous peer-reviewed articles (0ver 115), with an h-index of 24 demonstrating a tenured record in academia and research. Some of his recent notable works include numerical chromosomal aberrations in chromophobe RCCs and papillary RCCs as well as practical diagnostic applications of molecular testing in renal neoplasms.
Further to his scholarly activities, Dr. Alaghehbandan has served in various leadership and administrative roles and held positions in national and international committees (i.e. GUPS International Outreach Committee, USCAP-Canada Foundation, CAP House of Delegates, and American College of Epidemiology Minority Affairs). He is also an International Academy of Pathology (IAP) Ambassador, with passion for global health and building capacity and highlighting the improvements pathologists can make for populations in resource-poor settings. He has been invited as Visiting Professor to various universities in low- and middle-income countries (SE Asia and Africa) to provide teaching and expertise in clinical services and translational research. He currently serves on the WHO Scientific Expert Panel for Global Breast Cancer Initiative (GBCI), an evidence-based consensus review process to develop guidelines for breast cancer early detection, diagnosis, and treatment in low- and middle-income countries. Dr. Alaghehbandan also served as a long-term member of the Board of Directors of the NL Human Rights Association in Canada.
His goal is to make a lasting impact in the world of global health and cancer control.
Academic
Academic Background
Fellow, International Academy of Cytology (IAC). 2021
Fellow, American College of Epidemiology (ACE). 2020
Fellow, College of American Pathologists (FCAP). 2014
Board-certified, Anatomic Pathology, European Board of Pathology (EBP). 2013
Board-certified, Anatomic Pathology, Diplomate of the American Board of Pathology (ABP). 2013
Fellow, Royal College of Physicians of Canada (FRCPC), Anatomic Pathology. 2013
Fellowship, Surgical (Selective) Pathology, Washington University School of Medicine, Barnes Jewish Hospital, USA. 2013-2014
Residency, Anatomic Pathology, Memorial University and UBC. 2009-2013
Fellow, New York Academy of Medicine (NYAM). 2012
Memorial University, MSc (Clinical Epidemiology). 2010
Iran University of Medical Sciences, MD. 1998
Reza Alaghehbandan PUBMED
Research
Research Interest
Urologic, Breast and Gynecologic Surgical Pathology
Oncopathology and Epidemiology
Secondary use of administrative health databases
Current Projects In My Lab Include
Teaching
Teaching Interest
Residency training and medical student teaching.