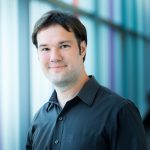 Dr.
Lange, Philipp
PhD, MSc
Academic Ranks(s):
Assistant Professor, UBC, Investigator, Michael Cuccione Childhood Cancer Research Program, BC Children's Hospital
Short Bio
Dr. Philipp Lange is Canada Research Chair in Translational Proteomics of Pediatric Malignancies and Assistant Professor, Departments of Pathology and Computer Science, University of British Columbia (UBC). He is also an MSFHR Scholar and Scientist in the Michael Cuccione Childhood Cancer Research Program at the BC Children's Hospital and the BC Cancer Research Institute.
Dr. Lange's research focuses on oncoproteoforms, proteins with cancer-specific post-translational modification, and their altered function, role in cell-cell communication and drug resistance, and their potential use as drug targets and biomarkers. His team drives the development and translation of proteomics platforms to advance molecular pathology and guide pre-clinical studies and precision treatment for kids with cancer.
Dr. Lange co-leads the multi-centre proteomics team in the Canadian Precision Oncology For Young People (PROFYLE) study and has won several awards for his advances in cancer research including the 2020 CIHR Early Career Investigator in Cancer Award and the 2016 Great Canadian Innovation Award by the Canadian Cancer Society.
Dr. Philipp Lange received his Ph.D. in Biochemistry from the Free University Berlin, Germany after earning an MSc in Molecular Biology, Microbiology and Computer Sciences from the University of Hamburg, Germany. During his Ph.D. at the Max Delbruck Centre for Molecular Medicine, Berlin, Germany he studied the molecular causes of hereditary osteopetrosis in children and patented a new drug target for the treatment of osteoporosis in women. He conducted his postdoctoral work with Dr. Christopher Overall at the Centre for Blood Research, UBC studying post-translational modification in breast cancer. http://langelab.med.ubc.ca
Academic
Academic Background
Free University of Berlin, PhD, Biochemistry. 2008
University of Hamburg, MSc, Molecular Biology, Microbiology and Computer science.  2004
Research
Research Interest
Research Areas
Childhood cancer
Cell signaling
Proteomics
Protein function
Post-translational protein modification
Targeted therapeutics
Summary
My research team strives to develop new diagnostic and therapeutic approaches to detect and treat children suffering from cancer earlier, better and with reduced impact on their life.
The fundamental question is how cancer cells are different from healthy, normal cells? If we understand this we will be able to better detect and kill cancer while leaving the rest of the body untouched.
Our research focusses on proteins, the structural and functional building blocks of a cell. To do this we combine genomics and proteomics, a technology that enables us to monitor all of the proteins in our body and detect how they are changed in childhood cancer. We then use computational approaches to further analyze and integrate our findings and to make them accessible to clinicians and fellow scientists around the world.
Current Projects
The overall objective of my team's research is to monitor and detect aberrant protein presence and function in cancer and exploit this difference to diagnose and treat cancer and improve the wellbeing of cancer survivors.
We are particularly interested in how the post-translational modification of proteins affects cancer progression and secondary disease, which can hit childhood cancer survivors years after successful treatment. After translation proteins can be modified by, for example, proteolytic processing or phosphorylation. This creates a repertoire of "proteoforms", which are all the variant and modified protein products of a single gene. They often differ in their localization, function and interaction with other proteins.
Current Projects In My Lab Include
We are hiring.
Opportunities for Students, Postdoctoral Fellows and Research Technicians available! Get in touch.