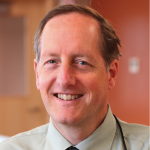 Dr.
Watson, Peter
MA MB BChir (Univ of Cambridge, UK) FRCPC
Academic Ranks(s):
Professor, UBC, Senior Scientist, Deeley Research Centre; Director Biobanking & Biospecimen Research Services (BBRS),
Affiliations(s):
BC Cancer Agency, Victoria CentreDept. of Biochemistry and microbiology, University of Victoria
Short Bio
Dr. Peter H. Watson is a Professor in the Department of Pathology, BC Cancer and the University of British Columbia and he is director of the BC Cancer Biobanking and Biospecimen Research Services.
Dr. Watson combines a clinical practice as a breast pathologist with a research laboratory based at the Deeley Research Center and an interest in the molecular pathology of solid tumors and in the development of biobank resources for health research. His laboratory made early contributions to approaches and application of molecular technologies to tissues and the program currently focuses specifically on the biology of biomarkers of breast tumour progression and the role of immune-tumor interactions in determining response to therapies.
In addition to directing the BC Cancer Biobanking and Biospecimen Research Services Program and he leads the Canadian Tissue Tumour Repository Network (CTRNet) .
Academic
Academic Background
BA (Natural Sciences), Cambridge University, 1978
MA, Cambridge University, 1982
MB BChir, Cambridge University, 1983
FRCPC (Anatomic Pathology), University of Manitoba, 1988
Research
Research Interest
Primary Research Area Molecular Pathology and Cell Biology Cancer
Secondary Research Area Education and Utilization Research
Cancer
Diagnostic Breast Pathology
Anatomic Pathology
Dr Peter Watson's Laboratory:
Our laboratory is located at the Deeley Research Centre, BC Cancer Victoria Center (https://www.bccrc.ca/dept/drc/). Our focus is on the molecular pathology of breast cancer and biobanking in support of cancer research (https://www.bccrc.ca/dept/drc/services/biobanking-and-biospecimen-research-services) involving active interactions and collaborations with other cancer research laboratories and groups within the BC Cancer and other institutions.
Current Projects In My Lab Include