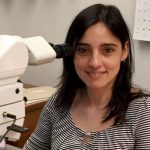 Dr.
Blanco, Paula
MD, MSc
Academic Ranks(s):
Clinical Associate Professor, UBC, Renal Pathologist, St. Paul's Hospital, Ophthalmic Pathologist, Vancouver General Hospital
Affiliations(s):
St. Paul's HospitalVancouver General Hospital
Short Bio
Dr. Paula Blanco obtained her medical degree from the University of Buenos Aires, Argentina, and subsequently pursued a Master of Science degree in the Department of Pathology at McGill University in Montreal. She completed her residency training in Anatomical Pathology in Barcelona, Spain, followed by clinical research fellowship subspecialty training in Renal and Transplantation Pathology with the Edmonton group at the University of Alberta, and post-doctoral studies in Ocular Pathology at McGill University. Dr. Blanco is currently a Renal Pathologist and Ophthalmic Pathologist in the Department of Pathology and Laboratory Medicine at UBC.
Academic
Academic Background
MD, University of Buenos Aires, Argentina
MSc, McGill University, Montreal, Canada
Anatomical Pathology Residency, Barcelona, Spain
Renal Pathology Clinical Research Fellowship, University of Alberta, Edmonton, Canada
Ophthalmic Pathology Postdoctoral Fellowship, McGill University, Montreal, Canada
Research
Research Interest
Renal Pathology
Renal Transplantation Pathology
Ocular Pathology
Current Projects In My Lab Include
Teaching
Teaching Interest
Renal Pathology
Renal Transplantation Pathology
Ocular Pathology