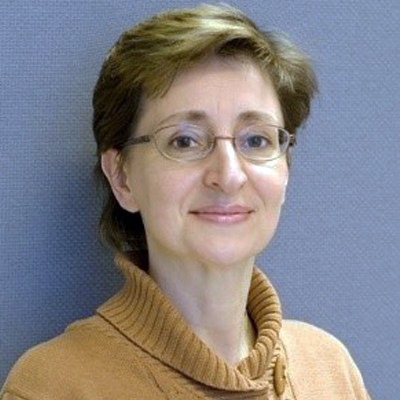 Hudoba, Monika
MD, (Komensky Univ, Czechoslovakia), FRCPC
Clinical Associate Professor, Department of Pathology and Laboratory Medicine, UBC | Hematopathologist, VGH
Vancouver General Hospital
Short Bio
Dr. Monika Hudoba graduated from the Hematopathology Residency training at UofT. She served as VCH Hematopathology Division Head and Regional Laboratory Hematology Leader (2006-2022), temporarily stepping into the Acting Dept. Head role in 2014-2015. During her leadership term, Hematopathology division grew from 3.5 members to a cohesive, efficient and collaborative team of 8 MDs and 1 PhD, where every member had an opportunity to develop clinical and academic expertise in a particular subspecialty. Her supportive and collaborative leadership resulted in numerous quality and utilization projects, such as implementation of testing algorithms and guidelines in VCHA, and province-wide in the field of thrombosis, autoimmune testing, clinical and diagnostic pathway for adults with acute leukemia in BC. She led the standardization and streamlined laboratory hematology processes across VCH. Her innovative spirit led to implementation of the first digital pathology in laboratory hematology in BC.
On provincial scale, she served on DAP, PLCO, Test Review Committee and PLMS Discipline Lead, Hematopathology (2019-2022), leading a very productive Discipline Committee which achieved some significant milestones, including provincial deployment of digital hematopathology support for laboratories, transition to PCR based testing of malaria across all health authorities, championing the adoption of LIS middleware in laboratory medicine, among other achievements.
Dr. Hudoba taught extensively selected hematology courses at BMLSc, academic rounds, resident round and other venues. During her term 2010-2014 as a Director of Hematopathology Residency training, she revamped Academic half-days, created accredited VGH-based Journal Club, Research Rounds and Quality Morphology rounds, and concluding the term with successful RCPS program accreditation. She was promoted to the academic rank of Clinical Associate professor. Her passion for quality improvement, utilization management and collaboration with leukemia and other clinical services was reflected in the works of the peer-reviewed publications, abstracts and presentations.
Academic
Academic Background
MD, Komensky University, Bratislava, Czechoslovakia. 1987
Research
Research Interest
Hematolymphoid neoplasms of the bone marrow
Development of laboratory quality programs and utilization management
Current Projects In My Lab Include