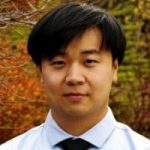 Dr.
Chen, Michael
MD, MSc, FRCPC
Academic Ranks(s):
Clinical Assistant Professor, UBC, Head, Medical Biochemistry (Island Health), Adjunct Assistant Professor, University of Victoria
Affiliations(s):
Royal Jubilee HospitalVictoria General Hospital
Short Bio
Dr. Michael Chen is a clinical pathologist, specializing in clinical chemistry and translational mass spectrometry. He obtained his undergraduate, medical, and MSc degrees at McGill University, Montreal. After his medical training, he completed the Clinician Investigator Program in clinical proteomics jointly developed by UVic Genome-BC Proteomics Centre and Montreal Jewish General Hospital, McGill University. He then returned to Victoria as a clinician scientist and the scientific director of the UBC Translational Omics Laboratory at Victoria General Hospital.
Academic
Academic Background
BSc Biochemistry, McGill University 2007
MD Medicine, McGill University 2011
MSc Experimental Medicine, McGill University 2016
Research Fellowship in Clinical Proteomics, Clinician Investigator Program, McGill University-University of Victoria 2017
Research
Research Interest
Dr. Chen's laboratory offers an integrated translational pipeline in the clinical environment. He leads an interdisciplinary team that carried out translation and validation of several research assays in the areas of iron metabolism (hepcidin-25), endocrinology (plasma renin activity, serum/plasma steroid profile and salivary progesterone), toxicology (urine drug profile), lipidomics (plasma ceramides profile, and bile acid profile) and microbiology (direct-from-specimen analysis).
Dr. Chen established the Vancouver Island Biofluid Resource Centre (BRC) that allows for patient recruitment, sample (and clinical data) collection, processing, and storage.  He is the director of Vancouver Island COVID-19 Biobank, and the co-chair of the BC COVID-19 Biobank Network (BCCBN), a core working group supported by UBC COVID-19 Clinical Research Coordination Initiative (CRCI).
Research Topics
Clinical biobanking
Translational mass spectrometry
Biomarker profiling and clinical diagnostics
Iron metabolism, direct-from-specimen microbial identification
Current Projects In My Lab Include
Teaching
Teaching Interest
Research Advisor, UBC Medical Biochemistry residency training program
Examiner, Kuwait Institute for Medical Specializations (KIMS) Clinical exams in clinical biochemistry