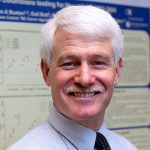 Dr.
Krajden, Mel
BSc, MD (McG.), FRCPC
Academic Ranks(s):
Professor, UBC, Medical Director, Public Health Serology, Provinical Health Services Laboratories, Director, BC Hepatitis Services, BC Centre for Disease Control, Laboratory Services, Associate Director, Laboratory Services, Head of Virology Section, BC Centre for Disease Control, Laboratory Services
Short Bio
Dr. Mel Krajden, a Professor, is the Director of Hepatitis Services at BCCDC and Associate Director of the BCCDC Public Health Microbiology and Reference Laboratories. He oversees the research on the impact of hepatitis C virus on our society which has been recognized for the innovative advances of delivery of care to hepatitis patients outside large urban setting. His research focus is on the use of molecular markers to monitor anti-viral efficacy in vivo and of molecular techniques to track microbial infections for epidemiological purposes. He has particular expertise in quantitative nucleic acid testing of hepatitis B and C viruses and inter-assay evaluation. Recently he has undertaken research in human papillomaviruses including their detection in specific populations, their seroepidemiology and seroconversion after vaccination.
Academic
Academic Background
BSc, McGill University, Microbiology & Immunology. 1976
MD, McGill University. 1980
Royal College of Physicians and Surgeons FRCP(C) in Medical Microbiology. Dec 1987
Royal College of Physicians and Surgeons, Certificate of competency in Infectious Diseases. Dec 1986
Royal College of Physicians and Surgeons in Internal medicine FRCPC. Jun 1984
Research
Research Interest
Infectious Diseases
Cancer
Health Services Research
Biodata
I am currently the Director of BC Hepatitis Services; Associate Director of Laboratory Services at the British Columbia Centre for Disease Control (BCCDC), Medical Director Public Health Serology, and Program Head of Virology. I am also a Professor of Pathology and Laboratory Medicine at the UBC. After earning my BSc and MD (1973-80) at McGill University I undertook Internal Medicine training at McGill University (1980-83). Thereafter I did a fellowship in Infectious Diseases at Stanford University (1983-86) and completed my Medical Microbiology residency at the University of Toronto (1986-87). Between 1991 and 1998 I was Section Head of Virology and Serology and an Infectious Diseases consultant at The Toronto Hospital (The University Health Network). In September 1998, I moved from Toronto to my position at the BC Centre for Disease Control (BCCDC) and the University of British Columbia. I am also an adjunct scientist with the Canadian Blood Services and member of the the Canadian Blood Services Scientific and Research Advisory Committee.
My recent clinical research involves integration of hepatitis prevention and care services. My laboratory research involves in the application of molecular techniques to: diagnose viruses; assess correlates between infection and clinical disease; use molecular techniques to monitor antiviral efficacy; and track microbial infections for epidemiological purposes. I also have extensive clinical trials expertise and serve as a laboratory cooridinator for a number of national industry sponsored clinical trials.
In 1999, together with Marlene Wong, of the Vancouver/Richmond Health Board I developed and submitted a proposal to the Province of British Columbia outlining an integrated hepatitis prevention and care management program. This program was base funded at approximately $5M per year on December 5, 2000, of which $1.3 M per year is allocated for coordination of hepatitis prevention and care management services in British Columbia.
As a result, since 2001, I have been the Director of the Division of Hepatitis Services at the BCCDC. This division integrates diagnostic virology services within a comprehensive framework of consumer and professional education and funds five regional integrated hepatitis prevention and care demonstration projects within each of BC's Health Authorities. Working with community partners these demonstration projects facilitate refinement and testing of new approaches for providing comprehensive services to hepatitis patients. Program activities include, health professional education, creating linkages between healthcare providers, enhancing nursing capacity and surveillance tools to define incident and prevalent hepatitis infections. This program which also supports guideline and policy development drives innovative system change.
Hepatitis prevention and care is fundamentaly a model for an important paradox that Canada faces within its healthcare system. Hepatitis, like many other illnesses, is faced with the mixed blessing of rapidly evolving effective drug therapies that can improve outcomes and potentially cure infection for some. However the high cost (personal and financial) and complexity of these treatments requires careful utilization management to maintain a sustainable healthcare system. Equally important is the fact optimal outcomes result from both treatment and effective prevention. Prevention encompasses vaccination for hepatitis A and B, enhanced surveillance and targeted education including harm reduction interventions for hepatitis C. The specific needs of vulnerable populations, whose voice is often limited, cannot be ignored if mitigation of health disparities and control of communicable diseases is desired.
Our model demonstrates that 80% to 90% of care and care for hepatitis C patients can be provided through non-physician allied healthcare professionals. However, funding for physicians and allied healthcare professionals follows silo'ed acute care or prevention based organizational structures which limit the necessary flexibility to support comprehensive service models. To address these needs, our hepatitis program has implemented a real-time link between PharmaCare and laboratories to provide cost-effective drug monitoring for hepatitis, saving approximately $700,000 per year in BC. With CIHR funding, we have been developing a prototypical mathematical model based on the natural history of HCV to estimate the current and future burden of disease in British Columbia. Our data support the need for thematic research across health promotion, prevention, care and treatment and must embrace consumers, providers and policymakers to stimulate greater collaboration between physicians and allied health service providers. The Hepatitis Program was recently showcased by the Provincial Health Services Authority as one of the best clinical research programs at the BC Centre for Disease Control.
Other activities include a partnership with the Canadian Blood Services Vancouver/Yukon, the Provincial Blood Coordinating Office and the BC Centre for Disease Control, I have been instrumental in initiating an Anonymized Data Linkage Project: Application of Privacy Enhancing Technologies to Enhance Public Health and Blood Safety. This pilot project focuses on developing the policies and procedures that would permit real-time electronic sharing of non-nominal surveillance data between different agencies (public health, blood product recipients and CBS) to enhance blood safety.
In addition, as the past Chair of the Joint Advisory Committee of the Health Canada/CIHR Hepatitis C Initiative I have played a key role in developing a national vision for an integrated health promotion, prevention, care and treatment hepatitis C research framework. All of these activities have occurred while making scholarly contributions to the field of diagnostic virology.
Current Projects In My Lab Include