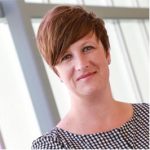 Dr.
Brown, Lindsay A
PhD, FCCMG
Academic Ranks(s):
Clinical Professor, UBC
Short Bio
Dr Brown completed her PhD (2007) in the Department of Pathology at the University of British Columbia. She then completed a CCMG clinical cytogenetics and molecular genetics fellowship in 2010 and 2013, respectively. She has been a clinical faculty member of the UBC Department of Pathology and Laboratory Medicine since 2010. Dr Brown is currently a clinical Cytogeneticist and Molecular Geneticist at Children's and Woman's Health Centre of BC.
Academic
Academic Background
BSc, Honors Biology, University of Waterloo, 1999
PhD, University of British Columbia, 2007
Postdoctoral Fellow, CTAG, BCCA, 2008
Clinical Cytogenetics CCMG Fellowship, Vancouver, 2010
Research
Research Interest
Primary Area of Research:  Childhood Diseases

Research Areas: Clinical cytogenetics Cancer genetics: Pediatric leukemia and lymphomas, and solid tumors
My current research focuses on exploring chromosome abnormalities in patients diagnosed with acute leukemia.
Acute leukemia is the most common cancer affecting children. Although the outcome of treatment has improved substantially in recent decades, there remains approximately 20 per cent of children treated for leukemia who relapse and have a poor prognosis.
My research aims to use high resolution microarray analysis to better identify the genetic changes associated with acute leukemia. I am particularly interested in determining if there are genetic alterations unique to treatment-resistant leukemia. Obtaining a detailed understanding of the genetics of acute leukemia will enable other researchers to develop targeted, personalized treatments with greater success rates and less harmful effects.
Current Projects In My Lab Include