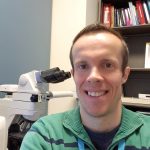 Dr.
Craig, Jeffrey William
MD, PhD
Academic Ranks(s):
Clinical Assistant Professor, UBC, Pathologist, Lymphoma Group, BC Cancer Agency
Affiliations(s):
BC Cancer Agency
Short Bio
I was born and raised in southeastern Pennsylvania and went to college in Baltimore to study biophysics. An interest in translational science then led me to New York City, where I attended medical school at Weill Cornell Medical University and defended my doctoral thesis in the Laboratory of Genetically Encoded Small Molecules at Rockefeller University. I completed my residency training in Anatomical and Clinical Pathology and my fellowship training in Hematopathology at Brigham and Women's Hospital in Boston before moving to Vancouver in 2018 to join the Lymphoma Group at BC Cancer. My main areas of clinical practice include lymph node and bone marrow pathology and flow cytometry. I also participate in a multitude of lymphoma-oriented research activities. Outside of work, I enjoy keeping current with American news and sports, traveling and spending time with my wife and daughter, and exploring all that our wonderful new home has to offer.
Academic
Academic Background
MD/PhD Weill Cornell Medical College (Weill Cornell/Rocke feller/Sloan-K ettering Tri-Institutiona l MD/PhD) 2013
PhD The Rockefeller University 2011
BA (Biophysics) The Johns Hopkins University 2005
Research
Current Projects In My Lab Include