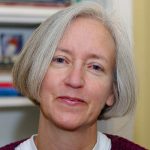 Dr.
Clarke, Gwen
MD FRCPC
Academic Ranks(s):
Clinical Professor, Dept of Pathology & Laboratory Medicine, UBC
Short Bio
Dr. Clarke a hematopathologist and transfusion medicine physician. She trained and later worked for many years in Edmonton and at the University of Alberta where she did her medical and post graduate training. Currently Dr. Clarke works in transfusion medicine with Canadian Blood Services, where she is the medical lead for the donor testing and diagnostic patient testing laboratories. She also works in diagnostic hematopathology with Island Health in Victoria. Her clinical research interests include rare red cell phenotypes and perinatal immunohematology testing. Dr. Clarke teaches residents in transfusion medicine and serve as the secretary general of the international society for blood transfusion.
Academic
Academic Background
Fellowship, Hematopathology Emory University. 1996
MD FRCPC, Hematological Pathology, University of Alberta. 1995
Research
Research Interest
Dr. Clarke is a hematopathologist and clinical researcher with interests in perinatal immunohematology, perinatal/neonatal diagnostic testing, rare blood groups, quality assurance and process improvement in transfusion medicine. Her clinical and academic studies include the diagnosis and treatment of hemolytic disease of the fetus and newborn (HDFN) and fetal/neonatal allo-immune thrombocytopenia (FNAIT).
Dr. Clarke uses simulation as a research and process improvement tool in laboratory medicine. She also collaborates with scientists and physicians in studies relating to blood product modification and patient transfusion outcomes. She is a medical educator at the undergraduate and resident levels and has worked with the Royal College of Physicians and Surgeons of Canada as a member of the examination board for hematopathology and residency program accreditation teams.
Current Projects In My Lab Include