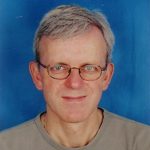 Dr.
Ritchie, Gordon
BSc, BASc (Chemical Engineering), PhD (UBC)
Academic Ranks(s):
Clinical Associate Professor, UBC, Clinical Scientist (Molecular Diagnostics) St. Paul's Hospital
Affiliations(s):
St. Paul's Hospital
Short Bio
Prior to joining St. Paul's Hospital, I completed my Ph.D. in Experimental Medicine at UBC. My family and I then moved to the United Arab Emirates for 6 years. There, I established the first molecular reference laboratory at the Cleveland Clinic operated Sheikh Khalifa Medical City. We enjoyed the sun, sea, and sand (and cycling) in the Emirates. Since returning to Vancouver, I have served as the Clinical Molecular Scientist for St. Paul's Hospital. The molecular diagnostics team and I have expanded our test menu by developing and validating numerous new molecular tests. We have developed PCR assays for a number of viruses, and established various assays for detection of bacteria and fungi, and antibiotic resistance. Molecular tests have also been established for the chemistry lab. In addition, our virology lab is the BC reference centre for viral load testing for HIV, hepatitis, and transplant associated viruses. Recently, we have been busy with next-generation sequencing tests for viral genotyping and drug resistance, and bacterial identification.
Academic
Academic Background
PhD, Experimental Medicine, University of British Columbia. 2001
BASc, Chemical Engineering, University of British Columbia. 1988
BSc, Chemistry and Biochemistry, University of British Columbia. 1980
Research
Research Interest
Molecular Diagnostics
Polymerase Chain Reaction
Next-Generation Sequencing
Current Projects In My Lab Include
Teaching
Teaching Interest
Molecular Diagnostic Methods
Quality Assurance and Quality Control
Regulation of Gene Expression