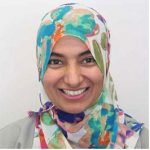 Al-Rawahi, Ghada
MD, DTM&H (London), D(ABMM), FRCPC
Honorary Adjunct Professor, UBC
Sultan Qaboos University, Sultanate of Oman
Academic
Academic Background
Certification Board of Infection Control and Epidemiology (CIC), USA, 2010
UBC Certificate in Laboratory Quality Management, University of British Columbia, 2009
UBC Certificate in Infection Prevention and Control, University of British Columbia, 2009
Diploma of The American College of Microbiology, D (ABMM), 2008
Fellow of the Royal College of Physicians & Surgeons of Canada (FRCPC – Medical Microbiology), 2007
UBC Residency Certificate (Medical Microbiology), Dept of Pathology & Laboratory Medicine, Faculty of Medicine, University of British Columbia, 2007
Diploma of Tropical Medicine and Hygiene (DTM&H), London School of Hygiene and Tropical Medicine, UK, 2002
MD, College of Medicine, Sultan Qaboos University, Muscat, Oman, 1999
BSc (Health Sciences), College of Medicine, Sultan Qaboos University, Muscat, Oman, 1996
Research
Research Interest
Primary Area of Research
Research Areas
C. difficile infection in children particularly oncology
Candidemia in children
Fungal infection in immunocompromised hosts
My current research is focused on Clostridium difficile infection in children with cancer. Clostridium difficile is a common bacterium in the human gut that usually does not cause infection but in certain circumstances can cause diarrhea. It is significant because it can easily spread from patient to patient in hospitals if infection prevention measures and environmental cleaning practices are suboptimal. We have noted that a higher proportion of oncology patients have this infection compared to other hospitalized patients. We aim to determine whether patients get the infection in hospital or if they come to the hospital with it. This information will help us understand the true burden of C. difficile infection in oncology and improve the quality of care provided to these patients..
Current Projects In My Lab Include
Teaching
Teaching Interest
Interested in teaching all areas in Microbiology.
Special interest in Infection Prevention & Control, Bacteriology, Mycology, Tropical Medicine, and Laboratory Quality Management.