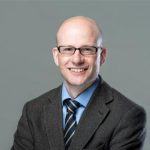 Academic Ranks(s):
Professor, UBC, Associate Vice President Research at BC Cancer Research Centre, Head, Department of Lymphoid Cancer Research, Research Director of Centre for Lymphoid Cancer
Short Bio
Dr Steidl is the Research Director of the Centre for Lymphoid Cancer at BC Cancer and Professor in the Department of Pathology and Laboratory Medicine at the University of British Columbia. He has specific expertise in clinical malignant hematology, molecular pathology, genomics and lymphoma biology. Dr Steidl's translational research group focuses on the pathogenesis of B cell lymphomas, tumor microenvironment biology and applied genomics.
Dr Steidl contributed to the discovery of novel somatic gene mutations in B cell lymphomas using next generation sequencing, and established microenvironment composition, and tumor-associated macrophages and normal B cells in particular, as novel biomarkers for outcome prediction in Hodgkin lymphoma. These seminal studies have led to multiple high-impact publications with him as the first or senior author including publications in the New England Journal of Medicine, Nature, Nature Genetics, Cancer Discovery, the Journal of Clinical Oncology and Blood. His leading role in the Centre for Lymphoid Cancer, associated membership to BCC's Lymphoma Tumor Group as well as active collaborations with scientific consortia (Leukemia and Lymphoma Molecular Profiling Project, Interlymph Hodgkin lymphoma group) and clinical trials groups (Canadian Cancer Trials Group, Eastern Clinical Oncology Group, Children's Oncology Group) enable the use of primary biopsy material as the start and end points of discovery and biomarker studies in his lymphoma program promoting precision oncology. The Steidl lab is ideally positioned to perform next generation sequencing experiments, downstream data analysis and biological/clinical interpretation of large datasets. With specific relevance to the feasibility of the experiments in the current proposal, the Steidl lab has produced single-cell RNAseq data in primary cell suspension of Hodgkin lymphoma and follicular lymphoma to characterize microenvironment composition and functional state at unprecedented resolution. Single-cell sequencing methodologies will form the basis of novel and detailed genetic and phenotypic investigations into the crosstalk of malignant cells with their microenvironment as proposed in this grant application in the context of ovarian cancer.
Dr Steidl holds a CIHR Foundation grant investigating the biological underpinnings of cellular crosstalk in lymphoma and is lead investigator of a team grant on treatment failure in lymphoid cancers funded by the Terry Fox Research Institute (TFRI). He is also project leader of a Genome Canada Large-Scale Applied Research Project (LSARP) to advance personalized treatments of lymphoid cancer patients. Dr Steidl is a member of the Scientific Advisory Board of the Lymphoma Research Foundation, past Chair of the American Society of Hematology Scientific Committee on Lymphoid Neoplasia and Member of the Leukemia and Lymphoma Society of Canada Medical and Scientific Advisory Committee. In 2017, he was inducted as a member of the Royal Society of Canada, College for New Scholars, Artists and Scientists.
Academic
Academic Background
PhD equivalent, Universitat Witten / Herdecke, Germany. 2003
MD, University of Muenster Medical School, Germany. 2001
Research
Research Interest
The research of my laboratory focuses on the molecular characterization of lymphoid cancers and biomarker discovery in a variety of Hodgkin and Non-Hodgkin Lymphoma subtypes. Our translational lymphoma research group uses a variety of state-of-the-art genome-wide discovery tools including array-based and digital gene expression profiling, single-nucleotide polymorphisms analysis and massively parallel sequencing techniques. A main research goal of the lab is to identify and functionally study underlying genetic mechanisms of immune privilege in lymphoid cancers. In previous work using next-generation sequencing, we identified several driver mutations and gene fusions, in particular, that have been shown to arise from specific chromosomal rearrangements in Hodgkin lymphoma and primary mediastinal large B cell lymphoma. Most of the identified genes (CIITA, CD274, PDCD1LG2) feature prominently in immune cell function impacting non-neoplastic cells in the tumor microenvironment. The discovery of these changes across a wide spectrum of lymphomas will likely reinforce the paradigm that immune privilege is a critical component of cancer phenotypes.
Another focus of the laboratory is on the specific composition of the tumor microenvironment in Hodgkin lymphoma. Using gene expression profiling and immunohistochemistry we have identified that the number of tumor-associated macrophages in lymph node biopsies is linked to unfavorable treatment outcome. However, many questions remain regarding the molecular mechanisms underlying the interaction of the malignant cells with infiltrating macrophages and immune cells in the microenvironment in general. Recently, CSF1R has been identified as a key molecule expressed on Hodgkin Reed Sternberg (HRS) cells and tumor-associated macrophages in Hodgkin lymphoma. We now seek to better describe the phenotype of tumour-associated macrophages found in lymphoma biopsies to shed more light on this tumor-microenvironment interaction and to test in-vitro if this cross-talk can be targeted by small molecule inhibitors.
Lymphoma relapse and progression is still one of the major clinical challenges in clinical care and our knowledge about the underlying biology of relapse is still rudimentary. Our preliminary data indicate that certain gene findings have developed during treatment and might be characteristic of this relapse biology. Therefore, we specifically focus on ongoing translational studies on lymphoma relapse biopsies using highly-annotated clinical data sets. By collaboration with our clinical colleagues, we are working on solutions how to develop better outcome predictors and predictive biomarkers that inform on individualized treatment options. These studies encompass biomarker evaluation in Hodgkin lymphoma, follicular lymphoma, large B cell lymphomas, and mantle cell lymphoma.
Collaborations
As a translational research laboratory, we pursue the goal of translating our research findings into better treatments for our patients. The Centre for Lymphoid Cancer (CLC) provides an excellent infrastructure to answer clinically relevant questions in collaboration with clinical oncologists (Joseph Connors, Laurie Sehn, Kerry Savage), hemato-pathologists (Randy Gascoyne), genome researchers (Marco Marra) and computational biologists (Sohrab Shah). The Centre for Translational and Applied Genomics (CTAG) and the Genome Sciences Centre (GSC) is providing cutting technology to facilitate translational research from bench to bedside. Multiple collaborations with researchers inside and outside the Cancer Agency complement the research focus areas to provide additional expertise in epigenomics (Martin Hirst) in vivo modeling (Steidl lab, Einstein College, NY), endogenous retroviruses and epigenetics (Mager lab, Terry-Fox Laboratory, BCCA), immune pathology (Anke van den Berg, Arjan Diepstra, University of Groningen, NL), and childhood lymphomas (Horton lab, Baylor College, Houston, TX).
Current Projects In My Lab Include
Projects:
Allen Distinguished Investigators (ADI Program)
Dr. Steidl was recognized as a pioneer scientist and received a prestigious award, the Allen Distinguished Investigators Award, from the Paul Allen Frontiers Group, a non-for-profit organization based in the United States, which invests in emerging frontiers in science. A total of $1.5 Million-USD was awarded to Dr. Steidl and his research team at BC Cancer to support a study of the dynamic, complex networks of normal and cancer cells constituting the tumor microenvironment using novel, multidimensional approaches. This project is in collaboration with a Cancer Imaging scientist, Dr. Akil Merchant at Cedars Sinai Medical Center and aims to comprehensively characterize the microenvironment composition and spatial architecture of cHL in correlation with somatic gene alterations in the malignant Hodgkin Reed Sternberg (HRS) cells to potentiate therapeutic advancements. Integration of the cutting edge technologies in single cell genomics and cancer imaging allows for simultaneous measurements of over 40 markers in primary patient samples at single cell resolution and unveils the complex spatial architecture and cellular crosstalk of this disease. This is the first-of-its-kind collaboration of bringing together two world-leading programs, which are focused on tumor microenvironment and cHL pathogenesis. The knowledge gained from this research will lead to development of novel biomarkers and immunotherapies targeting the tumor-host interactions, which will ultimately improve patient outcomes.
Lymphoma/Leukemia Molecular Profiling Project (LLMPP Program)
Diffuse large B cell lymphoma (DLBCL) is an aggressive form of B-cell non Hodgkin lymphoma (NHL) and the most common type of NHL. With its heterogeneous nature in clinical behavior, morphology and immunophenotype, reliable biomarkers are needed to accurately categorize the tumor subtypes. Recent advancement in gene expression profiling has defined clinically important predictive biomarkers based on "cell-of-origin" (COO), which categorizes DLBCL into 2 specific subtypes with distinct mutational patterns and clinical outcome. MYC and BCL2 translocations are other genomic characteristics which are used as an additional prognostic tool to further characterize the COO subtypes to determine prognosis for DLBCL patients. Recently, the team led by Dr. Scott has revealed the location of MYC rearrangement at base pair resolution by performing targeted sequencing of MYC, BCL2, BCL6 and IG loci. The team discovered a novel recurrent MYC partner, RFTN1, and identified clinically relevant architecture of MYC rearrangement in DLBCL (Chong et al., Blood Advances, 2018). To further dissect the subtypes of DLBCL, RNA sequencing, targeted sequencing and whole-exome sequencing data from 157 de novo GCB-DLBCLs were analyzed, and a new clinically relevant assay was developed based on 104-gene double-hit signatures (DHITsig). Our data showed that DHITsig positive patients have inferior outcomes compared to DHITsig negative patients. The new assay, DLBCL90, identifies a clinically and biologically distinct group within GCB-DLBCL characterized by a gene expression signature of high-grade B-cell lymphoma with double/triple hit (HGBL-DH/TH-BCL2) and helps guide clinical management of this aggressive disease (Ennishi et al., J. Clin. Oncol, 2018). The aim of this program is to improve patient outcomes by comprehensively characterizing the aggressive B-cell lymphoma subtypes and developing clinically relevant assays.
Overcoming Treatment Failure in Lymphoid Cancer (TFRI-funded Program)
This team grant is a collaborative effort, which experts in lymphoid cancer biomarkers and tumor microenvironment, hematology and cancer genomics jointly aim to understand and overcome treatment failure in lymphoid cancers. The team will identify and validate target-specific molecular tests characterizing genetic changes and molecular pathways which provide the preclinical rationale for novel drug development.
Large-Scale Applied Research Project (LSARP Program)
Dr. Steidl and Scott teams have successfully won a large-scale applied research project worth $11.9 million funded by Genome Canada, Genome BC, Canadian Institutes of Health Research and BC Cancer Foundation to study the genome biology of relapsed lymphoid cancers. Our large-scale, pan-Canadian study was launched last year to discover novel, actionable markers of relapsed lymphoma from which clinically relevant assays can be developed. This study also aims to implement genomic-based clinical tests, which have been previously developed by our research team, in the publicly funded health care system across the country to enhance more patient centric approaches and improve outcomes for lymphoma patients.