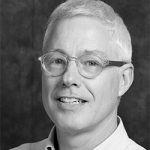 Dr.
Walker, Blair
BSc (Honors Biochemistry), MD (UBC), FRCPC
Academic Ranks(s):
Clinical Associate Professor, uBC, Institute for Heart+Lung Health
Short Bio
I grew up all over Canada, United States and Europe finishing my high school and undergraduate degree in Victoria. I came to Vancouver for medical school and have been here since but for a brief research fellowship in Michigan.
Academic
Academic Background
Fellow, Royal College of Physicians and Surgeons of Canada. 1991
MD, University of British Columbia. 1984
BSc, University of Victoria, Honors Biochemistry. 1980
Kasaian K, Wiseman SM, Thiessen N, Mungall KL, Corbett RD, Qian JQ, Nip KM, He A, Tse K, Chuah E, Varhol RJ, Pandoh P, McDonald H, Zeng T, Tam A, Schein J, Birol I, Mungall AJ, Moore RA, Zhao Y, Hirst M, Marra MA, Walker BA, Jones SJ. Complete genomic landscape of a recurring sporadic parathyroid carcinoma. J Pathol. 2013 Jul;230(3):249-60.
Hui P, Walker B, Levy RD. Patient with fever, hypoxemia, and pulmonary consolidations. Chest. 2012 Nov;142(5):1348-51.
Chiu CG, Yao R, Chan SK, Strugnell SS, Bugis S, Irvine R, Anderson D, Walker B, Jones SJ, Wiseman SM. Hemithyroidectomy is the preferred initial operative approach for an indeterminate fine needle aspiration biopsy diagnosis. Can J Surg. 2012 Jun;55(3):191-8.
Johner A, Griffith OL, Walker B, Wood L, Piper H, Wilkins G, Baliski C, Jones SJ, Wiseman SM. Detection and management of hypothyroidism following thyroid lobectomy: evaluation of a clinical algorithm. Ann Surg Oncol. 2011 Sep;18(9):2548-54.
Wiseman SM, Griffith OL, Gown A, Walker B, Jones SJ. Immunophenotyping of thyroid tumors identifies molecular markers altered during transformation of differentiated into anaplastic carcinoma. Am J Surg. 2011 May;201(5):580-6.
Karim Z, Walker B, Lam E. Lymphoepithelial cysts of the pancreas: the use of endoscopic ultrasound-guided fine-needle aspiration in diagnosis. Can J Gastroenterol. 2010 Jun;24(6):348-50.
Chiu CG, Strugnell SS, Griffith OL, Jones SJ, Gown AM, Walker B, Nabi IR, Wiseman SM. Diagnostic utility of galectin-3 in thyroid cancer. Am J Pathol. 2010 May;176(5):2067-81. Review.
Dickson JM, Zetler PJ, Walker B, Javer AR. Acanthamoeba rhinosinusitis. J Otolaryngol Head Neck Surg. 2009 Jun;38(3):E87-90.
Ksienski D, Malhotra S, Walker B, Levy RD. Chest pain and cough in a 33-year-old postpartum woman. Chest. 2007 Oct;132(4):1389-92.
Research
Research Interest
Cytopathology
Lung Pathology
Thyroid Pathology
Current Projects In My Lab Include