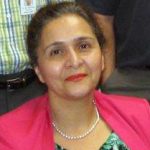 Dr.
Torbati, Bibi Naghibi
MB BS, FRCPC
Academic Ranks(s):
Clinical Associate Professor, UBC, Anatomical Pathologist, Kelowna General Hospital
Affiliations(s):
Kelowna General Hospital
Short Bio
Born in Mashhad, Iran
Completed MB BS degree at Dow Medical College, Karachi, Pakistan in 1983
Immigrated to Canada in 1983
Worked as a research assistant at the University of Toronto from 1984 to 1988, publishing several papers in pathology
Completed residency training in Anatomical Pathology at Dalhousie University, Halifax, Nova Scotia in 1993
Completed fellowship training in Forensic Pathology in Calgary, Alberta
Worked as a Clinical Assistant Professor of pathology at Memorial University, St. John's, Newfoundland and Labrador from 1994 to 2007. Responsibilities included anatomical pathology and teaching medical students and residents. Several publications were produced during these years.
Currently working as a Clinical Associate Professor of Pathology at the University of British Columbia, 2007 to present
Credentialed by the British Columbia Cancer Agency (BCCA) in 2008
Academic
Academic Background
MB BS, University of Karachi, Pakistan. 1983
Professional Qualifications
Fellow of Royal College of Physicians and Surgeons of Canada, June 2004
Wrote American Board Examination in Anatomical Pathology, Nov 1996.
Medical Council of Canada Evaluating Examination (MCCEE), 1986.
College of Physicians and Surgeons of Newfoundland.
College of Physicians and Surgeons of Alberta, Registration.
College of Physicians and Surgeons of British Columbia MSP.
Yousef GM, Naghibi B, Hamodat MM. Malakoplakia outside the urinary tract. Arch Pathol Lab Med. 2007 Feb;131(2):297-300. Review.
Miraliakbari BA, Kovacs K. The value of a monoclonal anti-epithelial antibody (mAB lu-5) in the differential diagnosis of tumors. Immunohistochemical study. Oncology. 1988;45(2):98-102. 1998
Miraliakbari BA, Asa SL, Boudreau SF. Parathyroid hormone-like peptide in pancreatic endocrine carcinoma and adenocarcinoma associated with hypercalcemia. Hum Pathol. 1992 Aug;23(8):884-7.
Research
Research Interest
Prostate, Breast and Pulmonary pathology
Contribution to provincial synoptic reporting of prostate carcinoma, Core, TURP and Prostatectomy specimen
Review of cancer cases upon oncologist request for breast carcinomas
Member of Quality control and peer review of surgical pathology cases, frozen section and breast core needle biopsy, Kelowna General Hospital
Current Projects In My Lab Include
Teaching
Teaching Interest
Small group sessions (CPC) for first and second year medical students in the Southern Medical Program
Organizer and preceptor for 4th year medical student elective rotations in the department of Pathology and Laboratory Medicine at Kelowna General Hospital
Organizer and preceptor of third year medical students gynecology rotation for GYN pathology/ gynecology correlation
Organizer and preceptor of third year medical student gynecology rotation for follow up of cases from the operating room to the pathology lab and preparation of student for monthly clinical and pathological conference