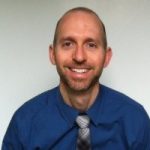 Dr.
Mack, Benjamin
MD FRCPC
Academic Ranks(s):
Clinical Instructor, UBC, Medical Director, Div of Medical Microbiology, Dept of Pathology and Laboratory Medicine, Fraser Health, Site Medical Lead, Infection Prevention and Control; Surrey Memorial Hospital and Langley Memorial Hospital
Academic
Academic Background
Subspecialty Training (Infectious Diseases and Medical Microbiology), University of Alberta. 2001-2004
Residency, Internal Medicine (completed in 2002 at University of Alberta co-incident with subspecialty training),
Dalhousie University, Halifax, NS. 1998 – 2002
MD (Medicine),University of Alberta. 1994 – 1998
Graduate studies (Neuroscience), Department of Pharmacology, University of Alberta. 1992-1994
BA (Psychology (Honours)), University of Alberta. 1987 – 1991
Professional Qualifications
RCPSC Specialist Certification in Medical Microbiology. 2004
College of Physicians and Surgeons of British Columbia Licentiate. 2004
RCPSC Subspecialty Certification in Infectious Diseases. 2003
Fellow of the Royal College of Physicians and Surgeons of Canada. 2003
College of Physicians and Surgeons of Alberta Licentiate. 2003
RCPSC Specialist Certification in Internal Medicine. 2002
Medical Council of Canada Licentiate. 2000
Awards and Recognition
Awards for Scholarship
Dean's Research Fund, University of Alberta, Faculty of Medicine
Awards for Service
Chief Resident, Medical Microbiology, University of Alberta, 2003 – 2004
Residency Training Committee, Substitute Representative, Dalhousie University Department of Medicine, 1999
Communications Officer, University of Alberta Medical Students' Association, 1995 – 1996
Other Awards
Annual Best Abstract Award, Division of Infectious Diseases Abbott Laboratories Ltd., (for Best Abstract by an
Infectious Diseases or Medical Microbiology Subspecialty Trainee at University of Alberta), 2003
George McCracken Infectious Disease Fellow Travel Grant, American Society for Microbiology, To attend 42nd
Interscience Conference on Antimicrobial Agents and Chemotherapy, 2002
Second Prize in Subspecialty Resident Poster Presentations, University of Alberta, Department of Medicine Research Day, 2002
Rick Hansen Man in Motion Legacy Fund, 1992
Dean's Honour Roll, University of Alberta, Faculty of Science, 1990, 1991
Summer Student Research Fund, National Sciences and Engineering Research Council, 1990
Forrest DL, Mack BJ, Nevill TJ, Couban SH, Zayed E, Foyle A. Bone marrow necrosis in adult acute leukemia and non-Hodgkin's lymphoma. Leuk Lymphoma. 2000 Aug;38(5-6):627-32.
Research
Research Interest
Antibiotic stewardship and utilization in hospitals
Quality control assessment and maintenance in consolidation of microbiology laboratories
Clinical-laboratory interaction, and optimal utilization of laboratory resources; innovative methods for service delivery by medical microbiologists
Current Projects In My Lab Include