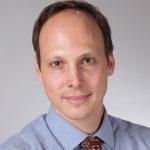 Academic Ranks(s):
Clinical Associate Professor, UBC, Anatomic Pathologist/Dermatopathologist at VGH
Affiliations(s):
Vancouver General Hospital
Short Bio
I completed my medical degree and Dr. med. thesis at the Westfaelische Wilhelms-University Muenster, Germany, and worked as a resident in Dermatology and Plastic Surgery prior to a basic science postdoctoral fellowship in Dermatology/Epithelial Biology at Stanford University. I subsequently completed a Pathology residency at Columbia University and a fellowship in Dermatopathology at UCLA. From 2009-2017, I worked as a dermatopathologist and physician-researcher in the Department of Dermatology/Dermatopathology at Columbia University.
I joined the Department of Pathology at Vancouver General Hospital and the University of British Columbia in September 2017. I have a special interest in characterizing melanocytic tumors at the molecular level and my basic science studies focus on melanoma development, mechanisms of metastasis and response to therapy.
Academic
Academic Background
PhD, University Munster, Germany. 2001
MD, Westfaelische Wilhelms-University Munster, Germany. 2000
Research
Research Interest
[1] Mechanisms of melanoma development and response to therapy
[2] Cell-matrix interactions in skin cancer
[3] Population genetics
Current Projects In My Lab Include