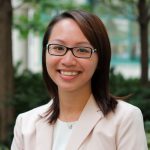 Dr.
Fung, Angela
B.Sc., Ph.D. (Alta.), Postdoctoral Diploma in Clinical Chemistry (Tor.), FCACB
Academic Ranks(s):
Clinical Assistant Professor, University of British Columbia, Clinical Chemist, St. Paul's Hospital
Affiliations(s):
St. Paul's HospitalMount Saint Joseph's Hospital
Short Bio
Dr. Angela Fung received a BSc with First Class Honours and PhD in Biochemistry from the University of Alberta in Edmonton, Alberta. Her interests in clinical applications of biochemistry and mass spectrometry have led her to pursue clinical chemistry post-doctoral fellowship training. She completed a Clinical Chemistry fellowship at the University of Toronto. Upon completion of her training, she joined the Department of Pathology and Laboratory Medicine of Providence Health Care as a Clinical Chemist. Her current research interests are biomarker discovery, clinical assay development, and clinical applications of mass spectrometry.
Academic
Academic Background
Diploma, Clinical Chemistry Post-doctoral Fellowship, University of Toronto. 2017
PhD, Department of Biochemistry, University of Alberta. 2014
BSc First Class Honors, Biochemistry, University of Alberta. 2009
Research
Research Interest
Clinical Chemistry
Biochemistry
Mass Spectrometry
Clinical method development
Current Projects In My Lab Include
Teaching
Teaching Interest
Clinical Chemistry
Biochemistry
Laboratory based teaching