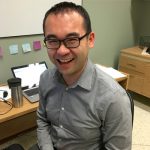 Academic Ranks(s):
Clinical Associate Professor, UBC, Hematopathologist at Vancouver General Hospital
Affiliations(s):
Vancouver General Hospital
Short Bio
Dr. Andrew Shih is a staff hematopathologist at Vancouver General Hospital. He is also the Medical Director and Regional Medical Leader of Transfusion Medicine at Vancouver Coastal Health Authority. Dr. Shih recently joined the Centre for Blood Research at UBC.
Academic
Academic Background
MSc, McMaster University, Health Research Methodology. 2017
MD, University of Saskatchewan. 2009
Research
Research Interest
Appropriateness of transfusion, critical appraisal of research, best practice guidelines.
Current Projects In My Lab Include