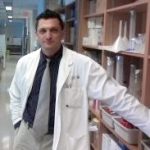 Dr.
Musaji, Andrei
MD (FRCPC), PhD, D (ABMM)
Academic Ranks(s):
Clinical Instructor, UBC, Medical Microbiologist, Royal Jubilee Hospital, Island Health
Affiliations(s):
Royal Jubilee Hospital
Short Bio
Experienced Resident Physician with a demonstrated history of working in the higher education industry. Skilled in Medical Microbiology, Immunology, Virology, Clinical Research, Medical Devices & BioAssay development, Vaccines, Oncology, and Hematology.
Strong healthcare services professional with a Medical Doctor degree from USMF and a Doctor of Philosophy (PhD) focused in Immunology and Hemtology from Katholieke Universiteit Leuven.
Certified in 2017 as a Medical Microbiologist by the Royal College of Canada and as a Clinical Microbiologist by the American Board of Medical Microbiology.
Academic
Academic Background
PhD, Biomedical Sciences, Université Catholique de Louvain, Brussels, Belgium 2004
MD, General Medicine, State University of Medicine and Pharmacy, Chisinau, Moldova 1999
Research
Research Interest
Current research interests include:
metabolic mass spectrometry for diagnosis of bacterial diseases
physical waves for control of bacterial infections in vitro & in vivo
Historical research interests included:
autoimmune disease modulation by viral infection
mass spectrometry for diagnostics of autoimmune disease
in vitro testing systems for contact allergic dermatitis
clinical research of bio-defense products
Current Projects In My Lab Include
Teaching
Teaching Interest
Clinical instructor at UVIC/UBC