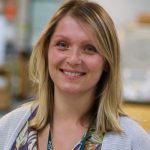 Jassem, Agatha
PhD, (D)ABMM, FCCM
Clinical Associate Professor, UBC, Clinical Microbiologist at The British Columbia Centre for Disease Control
BC Centre for Disease Control
Dr. Agatha Jassem, PhD, (D)ABMM, FCCM (UBC Pathology and Laboratory Medicine Clinical Associate Professor; Head, Virology/Molecular Diagnostics Lab, BCCDC PHL) is an accredited Clinical Virologist. She oversees diagnostic services and has extensive expertise in developing and implementing molecular- and serological-based tests for several organisms, including respiratory pathogens and those causing sexually transmitted and blood-borne infections. She is the BC Lab Lead for the Canadian Sentinel Practitioner Surveillance Network, which is monitoring SARS-CoV-2 and influenza vaccine effectiveness. During COVID-19 pandemic, Dr. Jassem secured funding to characterize the immune response after infection and vaccination, which involved validation and operationalization of novel multiplex serology, neutralization, and infectivity methods to support cohort-based studies across BC. Her current focus couple's viral genomics and immune correlates of protection to understand the impacts of SARS-CoV-2 evolution under vaccine pressure. Other research led by Dr. Jassem includes utilization of novel phage immunoprecipitation sequencing technologies to link viral exposures to chronic illness and the validation and implementation of dried blood spot samples for diagnosis of HCV and HIV in hard to reach populations. She is the President of the Canadian Association for Clinical Microbiology and Infectious Diseases and the President of the British Columbia Association of Clinical Scientists.
Academic Background
American Board of Medical Microbiology (ABMM) Diplomate. 2016
Clinical Microbiology Fellow, Laboratory Medicine, National Institutes of Health Clinical Center. 2015
PhD, Pathology & Laboratory Medicine, University of British Columbia. 2012
BSc (Hons), Biology, York University. 2006
Current Projects In My Lab Include
Dr. Jassem co-leads Path437 and provides lectures in Path722 and Path327.