Cheryl Kelly (1999)
Cheryl obtained a law degree at the University of Alberta in 2003, after which she spent several years in private practice as a Corporate Energy Associate at a national law firm.  She is currently employed as Senior Legal Counsel at Talisman Energy in Calgary.
"I always have people ask me how I ended up in Law, after hearing my undergraduate background. Although I don't directly use the specific knowledge that I learned in the BMLSc program in my day-to-day work, the program certainly helped make me a more rounded and interesting person.  I enjoyed the hands-on nature of the program and the ability to work closely with a tightly- knit group of peers."

Martin Kang (1998)
Martin pursued an MSc degree in Pathology at Queen's University (Kingston) after graduation from the BMLSc Program. He subsequently returned to UBC, where he is currently completing a PhD in Medical Genetics under the supervision of Dr. Michael Hayden.
"I can't even begin to explain how much the BMLSc program has helped me so far.  It provided a broad background in many areas of my research, both as a graduate student and research technician. It gave a really good background in both clinical and basic science areas and allowed me to feel confident in discussing these subjects with my peers and pursuing them in my work.
The depth and the breadth of the courses and subject matter really creates a well-rounded health sciences student capable of handling subjects in many relevant areas, as well as learning how to deal with the pressures of future work and schooling. I enjoyed my fellow classmates, my instructors and learning so many new and diverse topics… Easily the two years of university where I learned the most, and two of my best undergraduate years."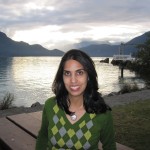 Saima Habib (née Kassam) (1998)
Following graduation, Saima obtained certificates in bioinformatics, training specialist and project management in biotechnology, and has held various research, clinical and industry positions.  She is currently a Senior Field Applications Specialist at Affymetrix, working with clinical laboratories, individuals in biotechnology and pharmaceutical companies, government institutions, and research institutions.  In this position, she consults with and supports customers who perform and interpret data from microarray analyses.
"The BMLSc degree gave me exposure to a number of different areas of specialization and gave me practical experience in each of these areas.  The program also provided me with background knowledge in a variety of disciplines, but specialization in one which moved my career forward in genomics.  Having exposure to multiple disciplines allowed me to gain general knowledge in all, but further specialize during and after the program in the specific area of my interest.
I enjoyed having a smaller class size and exposure to experts in the field and on campus.  The program was very dynamic and really helped me to advance my career."