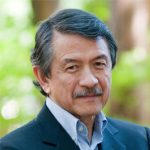 Dr.
Ling, Victor
PHD, O.C., O.B.C.
Academic Ranks(s):
Professor, UBC, President & Scientific Director, Terry Fox Research Institute
Short Bio
Dr. Victor Ling, O.C., O.B.C., is President and Scientific Director of the Terry Fox Research Institute. He provides overall leadership of the Institute and oversees the development of translational research projects, relationships with stakeholders, and communications.
An authority on multi-drug resistance in cancer, Dr. Ling is well-known for his discovery of P-glycoprotein, the first molecule identified to be responsible for drug resistance.
A major focus of Dr. Ling's research has been the investigation of mechanisms of drug resistance to anticancer drugs, particularly those mechanisms that involve alteration in the transport of such compounds. On-going research includes site-directed mutagenesis to specifically alter structure, purification and reconstitution of P-glycoprotein to investigate function and structural studies using biophysical techniques. At the clinical level, research is ongoing to determine if the P-glycoprotein mechanism may be manipulated to improve efficacy. His laboratory is also investigating the structure and function of the superfamily of P-glycoprotein-like transporter proteins, ABC transporters in various species. Dr. Ling's work to date has been documented in over 200 peer-reviewed publications.
A Fellow of the Royal Society of Canada (1991), he is the recipient of many awards, including the Robert L. Noble Prize (1994), the American Association for Cancer Research's Bruce F. Cain Memorial Award (1993), the Charles F. Kettering Prize (1991), the Dr. Josef Steiner Cancer Research Award (1991), and the Gairdner Foundation International Award (1990).
For his contributions as an esteemed health leader, including his groundbreaking research which has helped the scientific community to better understand why certain cancers become drug-resistant, he received the Order of British Columbia (2000) and was made an Officer of the Order of Canada (2008).
Dr. Victor Ling is former Vice-President of Discovery Research at the BC Cancer Agency and the BC Cancer Research Centre (1995-2007). He also held the position of Assistant Dean, Cancer Research at the University of British Columbia (1995-2007) where he is a professor in the Department of Biochemistry and Molecular Biology and the Department of Pathology and Laboratory Medicine.
He holds honorary degrees from Trinity Western University in Vancouver (2007) and York University in Toronto, Ontario (2006).
Academic
Academic Background
Postdoctoral Fellow, M.R.C. Laboratory of Molecular Biology, Cambridge, England, with F. Sanger. 1971
PhD, University of British Columbia with G.H.Dixon, Biochemistry. 1969
BSc, University of Toronto, Biochemistry. 1966
Renxue Wang, Lin Liu, Jonathan A. Sheps, Dana Forrest, Alan F. Hofmann, Lee R. Hagey and Victor Ling (2013) Defective canalicular transport and toxicity of dietary ursodeoxycholic acid in the abcb11-/- mouse: transport and gene expression studies. American Journal of Physiology-Gastrointestinal and Liver Physiology Aug; 305(4):G286-94.
Eugene Hrycay, Dana Forrest, Lin Liu, Renxue Wang, Jenny Tai, Anand Deo, Victor Ling and Stelvio Bandiera (2014) Hepatic bile acid metabolism and expression of cytochrome P450 and enzymes in Bsep-/- mice. Mol Cell Biochem ( Published online: 08 Jan 2014). 2013
Wang R, Sheps JA, Ling V. ABC Transporters, Bile Acids, and Inflammatory Stress in Liver Cancer. Curr Pharm Biotechnol. 2011 Apr 1;12(4):636-46.
Renxue Wang, Jonathan A. Sheps, and Victor Ling (2011) ABC transporters, bile acids, and inflammatory stress in liver cancer. Current Pharmaceutical Biotechnology 12: 636-646.
Lo M, Ling V, Low C, Wang YZ, Gout PW. Potential use of the anti-inflammatory drug, sulfasalazine, for targeted therapy of pancreatic cancer. Curr Oncol. 2010 Jun;17(3):9-16.
Dong X, Guan J, English JC, Flint J, Yee J, Evans K, Murray N, Macaulay C, Ng RT, Gout PW, Lam WL, Laskin J, Ling V, Lam S, Wang Y. Patient-derived first generation xenografts of non-small cell lung cancers: promising tools for predicting drug responses for personalized chemotherapy. Clin Cancer Res. 2010 Mar 1;16(5):1442-51. Epub 2010 Feb 23.
Wang R, Chen HL, Liu L, Sheps JA, Phillips MJ, Ling V. Compensatory role of P-glycoproteins in knockout mice lacking the bile salt export pump. Hepatology. 2009 Sep;50(3):948-56.
Lo M, Tsao MS, Hedley D, Ling V. Gene expression profiling of adenosine triphosphate-binding cassette transporters in response to K-ras activation and hypoxia in human pancreatic cancer cell cultures. Pancreas. 2009 Jan;38(1):85-93.
Chen HL, Wang R, Chen HL, Hwu WL, Jeng YM, Chang MH, Ling V. Bone marrow transplantation results in donor-derived hepatocytes in an animal model of inherited cholestatic liver disease. J Biomed Sci. 2008 Sep;15(5):615-22. Epub 2008 May 29.
Lo M, Ling V, Wang YZ, Gout PW. The xc- cystine/glutamate antiporter: a mediator of pancreatic cancer growth with a role in drug resistance. Br J Cancer. 2008 Aug 5;99(3):464-72.
Research
Research Interest
Our laboratory works to understand the mechanism of resistance to anticancer drugs observed in many human cancers. Among other things, we have identified one mechanism of multi-drug resistance (MDR) involving P-glycoprotein (Pgp) which functions as a drug efflux pump of broad specificity. In some cancers the correlation between the presence of Pgp function and non-response to chemotherapy has been established and the use of agents that block Pgp functiton has begun to yield promising results in combination with conventional chemotherapy. Our research in understanding the structure and function of Pgp will provide the fundamental basis for the pharmaceutical industry to design better blockers of Pgp. We and others have also discovered that PgP is a member of a superfamily of related proteins called ABC transporters which may be represented by more than 50 members in the human genome. These transporters are found in all kingdoms of life and appear to be involved in many fundamental biological processes. An inventory of ABC Transporters is currently being generated and we are profiling their expression patterns in different drug-resistant cell lines and some cancers. We are also studying a related liver-specific gene discovered in our lab, the sister of P-glycoprotein (sPgp), and its function in bile formation and cholesterol homeostasis. The mutation of Spgp in humans can cause Progressive Familiar Intrahepatic Cholaestasis -a liver disease, which is often fatal , especially in children. Technologies/expertise in our laboratory include: quantitative RT-PCR, expression profiling, generation of knockout mice, phylogenetic analysis, serial analysis of gene expression (SAGE), Protein biochemistry, Fluorescence labelling, and Transport kinetics.
Current Projects In My Lab Include