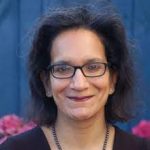 Academic Ranks(s):
Clinical Professor, UBC, Anatomic Pathologist, Vancouver General Hospital
Affiliations(s):
Vancouver General Hospital
Short Bio
I am an anatomic pathologist with a specialist interest in Gynaecological cancer. I studied Medicine in Delhi, India, and then went on to train in diagnostic pathology first in India and then in the United Kingdom. Before coming over to this country I worked at St Bartholomew's and the Royal London Hospitals in London, UK. The best thing about being a pathologist is being behind the scenes in patient care and working peacefully at a microscope. The biggest challenge in my line of work is the breath-taking pace at which new information is becoming available through research and how quickly this is transforming clinical and diagnostic practice. Keeping up to date so that we continue to provide the best for our patients requires constant education.
Academic
Academic Background
FRCPath, 2008, UK
MRCPath, 1998, UK
Diploma of the National Board of Examinations (Pathology), 1994, India
MD(Pathology), Postgraduate Institute of Medical Education and Research, Chandigarh, India
MBBS, 1989, University of Delhi, India
Research
Research Interest
Her teaching and research interests focus on improving accuracy and precision in all areas of gynaecological histopathology reporting.
Current Projects In My Lab Include