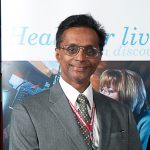 Short Bio
Graduate of Jamnagar.
Postgraduate training in PGI, Chandigarh.
Further training in National Institutes Health in USA and also at the University of Chicago.
Currently working at Vancouver General Hospital and University of British Columbia in Canada.
Academic title – Clinical Professor.
Interest – hematopathology, hematopoietic malignancies, flow cytometry, development of clinical practice guidelines, laboratory accreditation.
Written approx 90 papers, abstracts and chapters.
Invited lectures in 20 conferences in India, USA, Canada, UK, West Indies, Netherlands and Saudi Arabia.
Academic
Academic Background
MB, BS, Shah Medical College, Jamnagar, India, Medicine. 1975
MD, Postgraduate Institute of Medical Education & Research Chandigarh, India, Pathology & Hematology. 1978
National Institute of Health, Bethesda, Fogarty International Fellow. 1981
Awards and Recognition
Aghaeepour N, Finak F, The FlowCAP Consortium (includes Dalal Bakul I), The DREAM Consortium, Hoos H, Mosmann TR, Brinkman R, Gottardo R, Scheuermann RH. Critical assessment of automated flow cytometry data analysis techniques. Nature Methods, available online. 2014
Dalal Bakul I, Al Mugairi Areej, Pi, Steven, Lee Soo Yeon, Khare Nikisha S. Pal Jason, Bryant Adam, Vakil Alok P, Lau Sally, Mourad Yasser R. Abou. Aberrant Expression of CD13 Identifies a Subgroup of Standard-Risk Adult Acute Lymphoblastic Leukemia With Inferior Survival. Clinical Lymphoma, Myeloma & Leukemia, Vol. 14, No. 3, 239-44, 2014.
Flow Cytometric Testing for Paroxysmal Nocturnal Hemoglobinuria: CD64 is Better for Gating Monocytes than CD33. Cytometry B Clin Cytom. 2013 Jan-Feb;94(1):33-6.
Al Riyami AZ, Jacobson K, Ford J, Dalal Bakul I. Transient appearance of GPI-deficient population in a patient with azathioprine-associated bone marrow aplasia. Ann Hematol, 2012;91:1659-1661.
Dalal Bakul I, Mansoor S, Manna M, Pi S, Di Sauro G, Hogge D. Detection of CD34, TdT, CD56, CD2, CD4, and CD14 by Flow Cytometry Is Associated With NPM1 and FLT3 Mutation Status in Cytogenetically Normal Acute Myeloid Leukemia. Clin Lym Myel Leuk. 2012;12:274-9.
Hudoba M, Dalal Bakul, Warkentin Theodore E., Pal Jason, Chipperfield Kate, Pi David, Tsang Peter, Coupland Robert, Carter Cedric J. Toward better utilization of laboratory resources: The impact of a mandatory 4Ts pretest clinical assessment form on the diagnosis of heparin-induced thrombocytopenia. BCMedJ 2012;54:244-247.
Peterson Erica A, Gerrie Alina S, Power Maryse M, Poulin Micheal P, Dalal Bakul I, Forrest Donna L. Disseminated Mucormycosis Presenting as Transplant-Associated Thrombotic Microangiopathy. Leuk Res. 2011;35:138-40.
Dalal B, Al Riyami A, Yenson P. Microangiopathic haemolytic anaemia and hyposplenism in angiosarcoma. Br J Haematol. 2010 Dec;151(5):413.
Dalal B.I., and Brigden,M.L. Factitious biochemical measurements resulting from hematologic conditions. Am. J. Clin. Pathol. 2009 Feb;131(2):195-204.
Dalal Bakul I, Hutchinson Sabine. Slide of the week: Laboratory specimens turn green. Bloodmed. 2009 October. Website: http://www.bloodmed.com/home/.
Research
Research Interest
Academic: leukemias, myelodysplasias, stem cell transplantation, flow cytometry (approx 110 papers + presentations + chapters)
Quality assurance: development of clinical practice guidelines (www.bcguidelines.ca), laboratory accreditation
Cancer
Current Projects In My Lab Include